CAO welcomes University of Groningen team for ATMO-ACCESS funded TransNational Access visit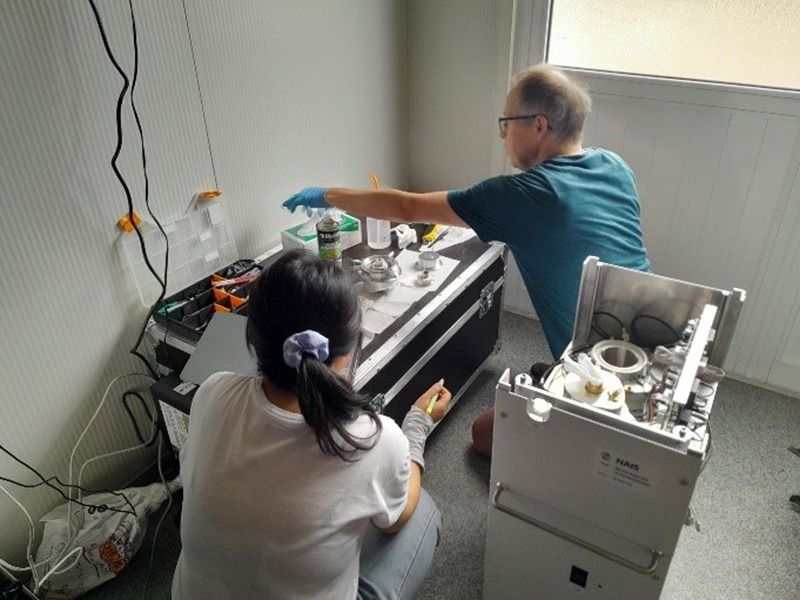 The ATMO-ACCESS project supports Trans-National Access to services offered by selected, first-class European atmospheric research facilities such as the CARE-C's Cyprus Atmospheric Observatory (CAO) in Agia Marina Xyliatou (AMX). The CAO team were very happy to participate at the first TNA call this spring and welcome a team of scientists from the University of Groningen, Netherlands, for a project studying atmospheric nanoparticles.
Ph.D. Student Xinya Liu and technician Jan Mulder visited the CAO stations and CARE-C facilitates in order to get familiar with the Neutral cluster and Air Ion Spectrometer (Airel NAIS 522) and Particle Size Magnifier (PSM, Airmodus) instruments and their applications and data. Together these instruments are measuring the number size distribution of 1-42 nm particles and help us understand the rate and number of particles formed from atmospheric gases. Particle formation is responsible of producing ~50% of all particles that act as cloud condensation nuclei and can thus affect the climate indirectly.
First, Xinya and Jan joined the CAO tech team at our Troodos station for a maintenance visit, including the first maintenance for the recently installed NAIS-522. The Troodos instrument was successfully cleaned and the data is looking better than ever. After the cleaning operation, the team continued to AMX to familiarize themselves with the PSM and NAIS installations. The CAO team organized more training on the PSM with the help of University of Helsinki Ph.D. student Rima Baalbaki, who is concurrently visiting CyI. Lastly, Xinya and Jan familiarized themselves with the PSM instrument and software in details in our laboratory facilities in Nicosia campus. This knowledge transfer opportunity, made possible through TNA-access is vital for the Dutch team to make their own particle formation studies in the Netherlands in the future.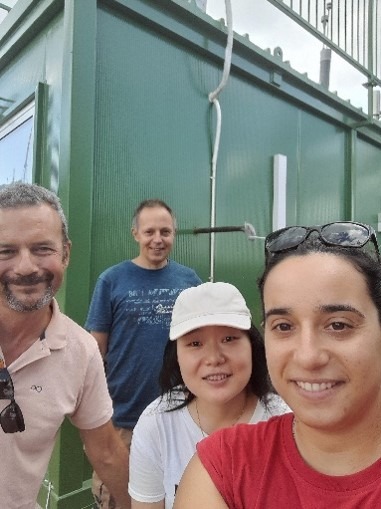 Moreno Parolin, Jan Mulder, Xinya Liu and Nikoleta Lekaki at CAO-Troodos station while cleaning the NAIS (photos by Nikoleta Lekaki)