Young students of the French-Cypriot school join CARE-C for a short internship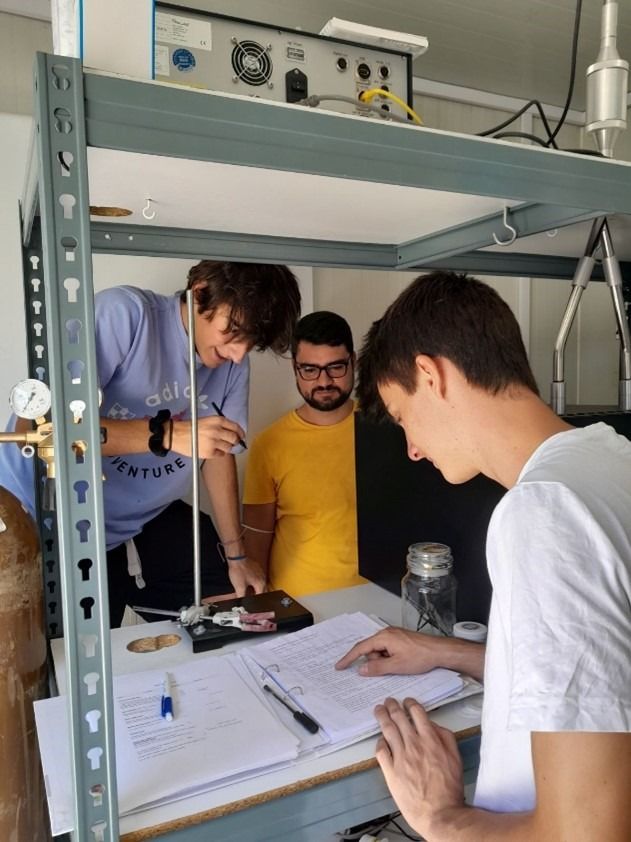 Alexandros and Pieter are two motivated young students from the French-Cypriot school in Nicosia. They joined a short internship at the CARE-C facilities in July to get to know what our researchers study at the Environmental Observations Department (EOD). They had a week to tour the Cyi facilities at Orounda airfield, CAO stations at Agia Marina Xyliatou and Nicosia and the Environmental Chemistry Laboratory at Nicosia campus.
The students watched a demonstration of Unmanned Aerial Vehicles (UAV) flights a tour Orunda site and after this exciting experience, they visited the nearby Agia Marina Xyliatou (AMX) station. AMX is hosting several research infrastructure measurements including aerosol observations for ACTRIS and AERONET. During the visit, Alexandros and Pieter helped with the fine dust aerosol spectrometer, FIDAS 200 (by PALAS, Germany), calibration that measures particulate matter (PM2.5 and PM10). They also helped with Aethalometer (by MAGEE SCIENTIFIC) maintenance, that measures black carbon. Both PM and black carbon affect the climate and human health, which the students learned during their visit.
Moreover, Asst. Prof. Bourtsoukidis joined the station and explained them how the Proton transfer Reaction – Time of Flight – Mass Spectrometer (PTR-ToF-MS 4000; by Ionicon, Austria) instrument operates and how we can detect minute quantities of volatile organic compounds from the air. CAO team explained the young students the idea and the vision of CAO, show them all instruments that they are located at AMX (Rafail Konatzi & Nikoleta Lekaki) and Nicosia (Moreno Parolin & Pierre-Yves Quehe) station. Finally yet importantly, Konstantina Oikonomou from Chemistry laboratory at Nicosia campus demonstrated and taught the students how we are treating atmospheric filter samples and familiarised them with the techniques that the laboratory is using.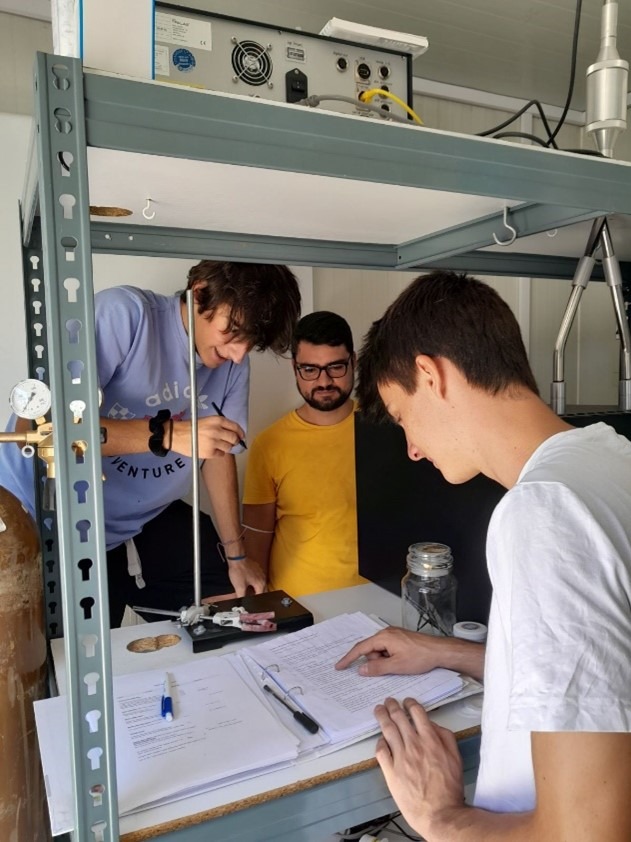 Alexandros Sciare, Pieter Rotteveel, Rafail Konatzi doing maintenance at CAO-AMX (left) AND Asst. Prof. Efstratios Bourtsoukidis introducing the PTR-MS instrument to the students (right) (photos by Nikoleta Lekaki)